Grønnköpingkið –
The greenest hospital in the world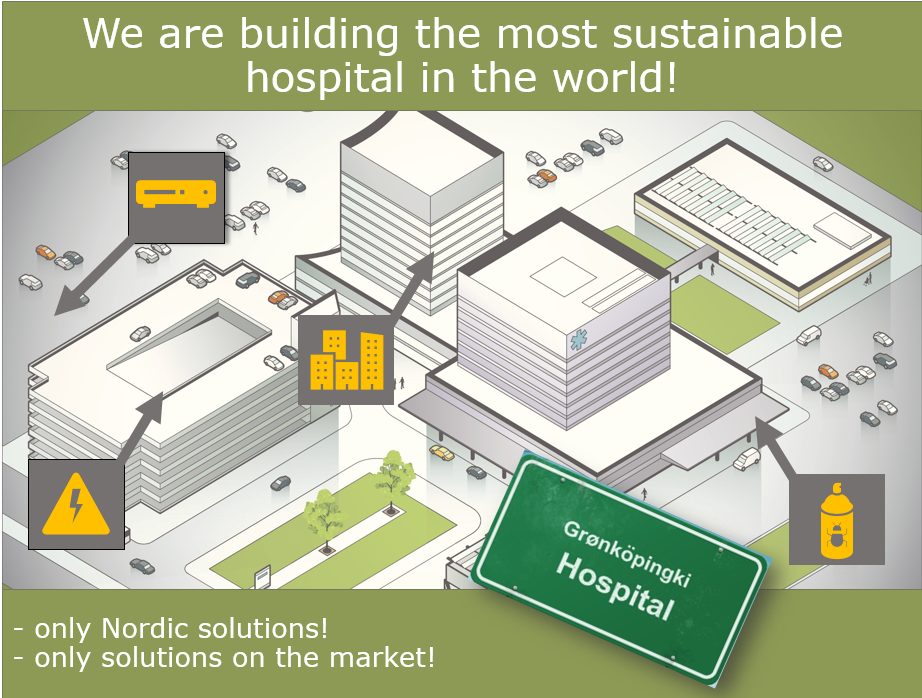 Grønnköpingkið is building a new hospital – stay tuned for updates!
The city and region of Grønnköpingkið is building a new university hospital that will be ready to operate in 2023. The hospital will be the greenest and most sustainable hospital in the world using only Nordic solutions that already exist on the Nordic market. Nordic Center for Sustainable Healthcare will be a partner to Grønnköpingkið University Hospital (GUH) and help the region and the hospital to find the most sustainable solutions on the market.
About Grønnköpingkið city
Grønnköpingkið has 453 000 inhabitants. Grønnköpingkið is located next to a fjord, a mountain, a forest and the ocean. The temperature is typical Nordic with cold winters and relatively hot summers. The city origins back to around year 800 a.c. and was probably founded by Vikings looking for new land to explore. Grønnköpingkið is located very strategically in the centre of the Nordics and has been a key area for trade in the whole Nordic region. During the middle ages Grønnköpingkið was one of the Hansa cities and played a significant role as a neutral trade city in the North. Until this day trade and international collaboration has been a corner stone in Grønnköpingkiðs development.
During the last 30 years Grønnköpingkið has transformed from an industrial city to a city of knowledge with a focus on sustainability, digitalisation and life science. Many start-ups and more established companies in these fields are based in the city. These focus areas combined make sustainable healthcare an obvious area to focus on and many new companies have started to bring knowledge from different sectors into sustainable healthcare. The fact that Grønnköpingkið University in 2017 established a department and a professor focusing on research in sustainable healthcare has strengthened the area further.
About Grønnköpingkið University Hospital
Grønnköpingkið University Hospital mainly serve the 453 000 residents of Grønnköpingkið city but also serve as a University Hospital for the greater Grønnköpingkið region with around 1,2 million inhabitants. It is owned and operated by Grønnköpingkið region who also operates 7 other hospitals in the region along with primary care. The new hospital will be built on a new site just in the outskirts of the city center. All clinics, divisions and departments etc. will move to the new hospital in 2023 from their current locations around Grønnköpingkið.
Facts about the hospital:
– 10 700 employees
– 200 000 m2
– 500 000 outpatient visits
– 75 000 hospitilised patients
– 50 000 emergency room visits
– Energy use: less than 175 kWh per m2 and year
– 22 births every day
Grønnköpingkið: chosen solutions
This is a place to find inspiration and information on workable solutions which can be used to increase the sustainability performance at your hospital. Here you can find performance information on products and solutions, the locations where it is installed today and contact points if you want to learn more. The section is currently under construction but will be updated continuously. If you are looking to target a specific area which can't be found in the section below, please contact us.
Some of the areas where sustainable solutions will be available in:
Energy Efficiency

Energy Supply and Production

Waste Solutions

– Nordic hospitals are very energy efficient, you will see the solutions that make that possible.
– We already have some examples listed here
– Solar cells, geothermal energy, wind mills, heating and cooling from aquifers – Nordic hospitals have it all.
– We already have some examples
listed here
– From waste bins to circular waste streams, we can handle hospital waste.
| Materials and Chemicals | Pharma | Transportation and Logistics |
| --- | --- | --- |
| – New materials, circular materials, less harmful chemicals - we are working with that too. | – Pharmaceuticals are for patients, not the nature. The Nordics are working with that problem as well. | – How do we in the Nordics get staff, stuff and patients back and forward in the most sustainable way? |
| MedTech and Medical Devices | ICT – solutions | Water Treatment and Supply |
| --- | --- | --- |
| – MedTech with a sustainability focus – less energy, better materials, less materials, less travel. | – E-health, surveillance, reporting, statistics, digital solutions, AI – the future is here today. | – Clean water, we have it, how do we do it? |
| Waste Water Treatment | Architecture & Construction | Maintenance |
| --- | --- | --- |
| – State of the art waste water solutions. | – The best Nordic green design & construction with a focus on hospital buildings. | – How do we keep a green hospital green? |
| Climate | Single Use Items | Interior Design |
| --- | --- | --- |
| – How do we reduce our climate impact besides the solutions above, and how do we prepare for climate change? | – We have too much, but we are working on it. Solutions that reduce the amount of waste. | – World famous Nordic and sustainable design – also for hospitals. |
| Innovation Arena | International Arena | Food |
| --- | --- | --- |
| – With solutions not quite yet on the market, but very promising for the future. The solutions you want tomorrow. | – We all need help from our friends. Here we have excellent solutions from outside the Nordics eager to contribute to Nordic sustainable and green healthcare. | – We also eat, but we try to do it greener and more sustainable. How? |
* The categories are preliminary and might change during the project.
Participate – submit a tender
If you and your organisation want to participate we will need the following information seen below. Please note that we at NCSH can turn down solutions that we dont think meet the sustainability standards we and Grønnköpingkið University Hospital are looking for. Members of NCSH will be prioritised.
Solution
Photo
Sustainability Impact/Savings
Installed
Where?
Contact Hospital/
Region
Contact
supplier

– Max 500 letters total
– Short descriptive headline
– Link to more info if applicable

– Max 500 kB
– Photo preferably from site/ installation

– Max 1000 letters
–Link to more info if applicable

– Hospital logo
– Address (must be Nordic)
– Link to Google map
– Link to more info if applicable

– Contact information to relevant staff members at the hospital.
– Link to hospital and more info.

– Logo company
– Contact information
– Link to more information.

Innovative solutions that are not yet on the market and relevant projects will be presented in another way.
Related projects
Other Nordic hospital constructions to keep track of
This section will hold information on existing Nordic hospital projects in which the sustainability aspects are of high concern.
About Grønnköpingkið project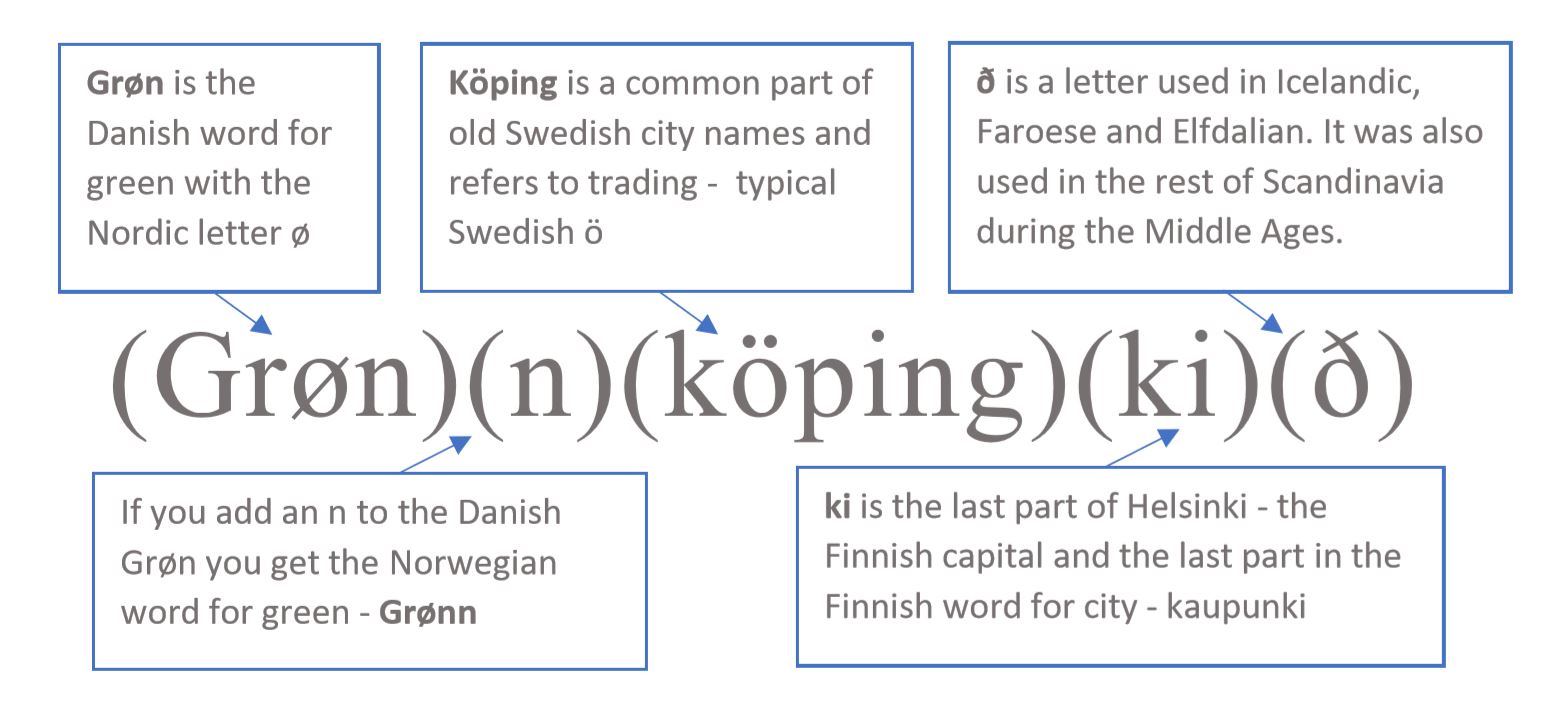 Grønnköpingkið is a fictive Nordic city that will build a new university hospital with the best the Nordics can offer within sustainability in healthcare. All solutions must be installed at a Nordic hospital, but we will also have an innovation pavilion with solutions not yet on the market. We will also have an international arena with non-Nordic solutions that simply are too good not to include.
The result will be an interactive model where you can find solutions within various categories such as waste management, water treatment, MedTech with a sustainability edge, energy efficiency etc. Under each category 10-15 solutions will be presented and you will be able to find out where you can see it installed, what the sustainability impact is, supplier information, technical information, contact information to hospital staff, and more.
The project is not funded at the moment so NCSH are working with it when there is spare time. Therefore it will move slowly forward, just like a real hospital construction. If you want to participate or have a solution that should be in the model, please contact us.
Contact us:
For information on the Grønnköpingkið project and how to take part in it, feel free to contact us. NCSH office is located in Malmö, Sweden, but we have members and partners from the entire Nordic region and beyond. We have members from over 15 countries. Do not hesitate to contact us if you want to learn more about the center!
Nordic Center for Sustainble Healthcare, c/o TEM
Södra Promenaden 51
211 38 Malmö
SWEDEN